The results of new research may result in strong improvements in the effectiveness of Root Canal treatments. While root canal procedures are very common, they are not always successful. This is normally due to problems in removing all of the bacteria in the affected tooth's canal. But this recent research may have solved this issue – in the form of highly-effective microrobots.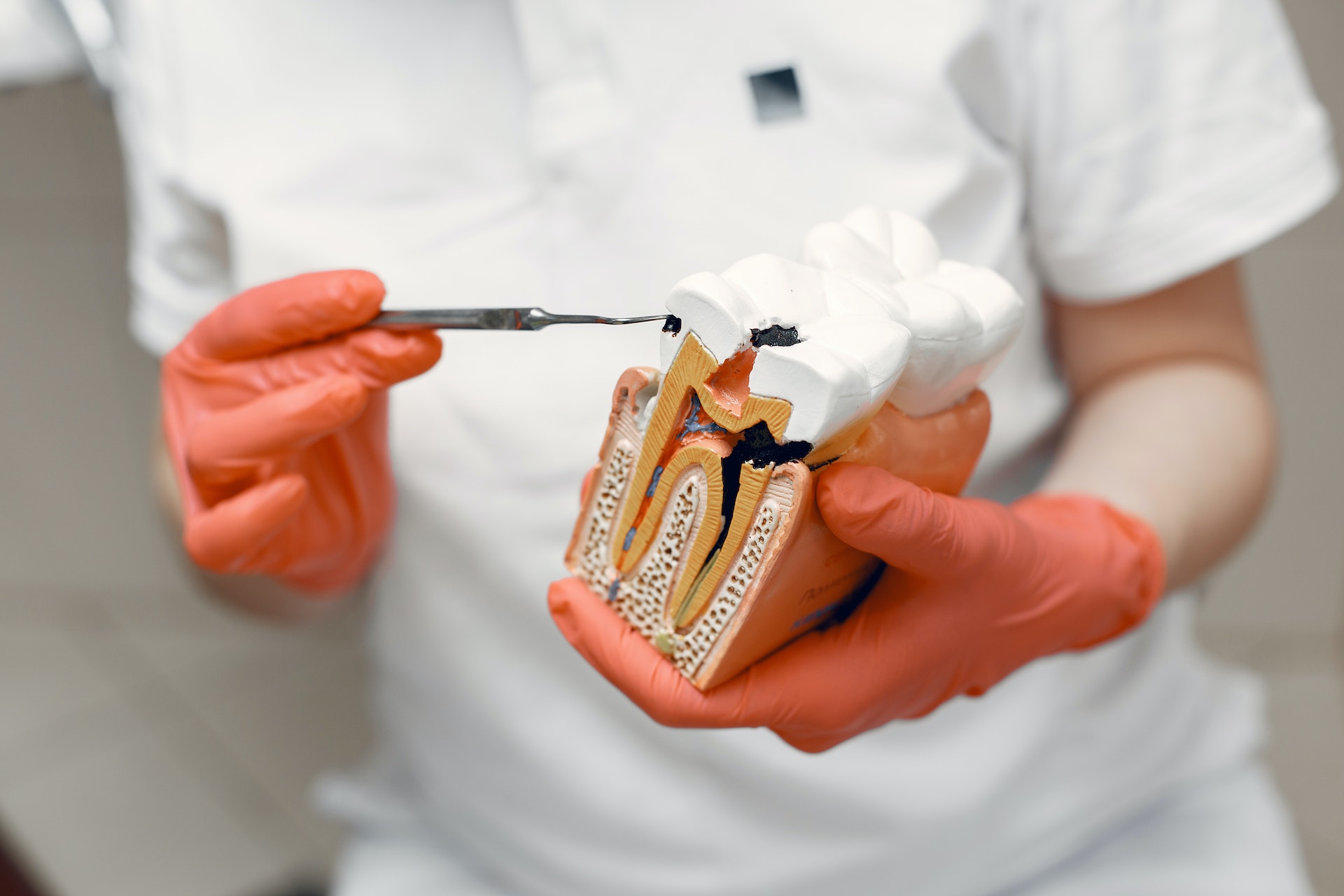 The Root Canal system is one of the most complex areas of the entire mouth. Each tooth has at least one canal, which connects the tooth to the nerves.
But when teeth get severely decayed, or a filling fails, an infection normally follows, resulting in a root canal treatment being required to remove harmful bacteria. Unfortunately, getting rid of all of the bacteria can be challenging. Therefore, persistent infections and the need for further treatment are common.
However, new research has found that such problems could be overcome. Using microrobot technology, a research team have found a method that results in the bacteria being cleared in a much more effective way than the current treatment methods.
Root Canals: The Current Situation
As mentioned, a Root canal treatment is generally needed when a tooth has become infected. The actual treatment involves a dentist removing infected tissue from inside the tooth – in an area called the pulp [1].
The intention of the treatment is for the dentist to get the canal free of bacteria. But despite the commonness of this procedure, they aren't always successful. For example, recent research found that the average survival time of a tooth after a root canal treatment is around 11 years [2].
Current methods and techniques are incapable of entirely removing bacteria from the canal. But the research team were hopeful that the use of microrobots could change this. The same researchers had already used microrobots to find a way of removing plaque from teeth [3]. Therefore, they wanted to see how microrobots could assist in a root canal treatment.
Microrobots, which are built by iron oxide nanoparticles, are approved by the U.S. Food and Drug Administration (FDA), and have been used in a lot of oral health research in recent times.
The Research
The research was completed by a team at the Center for Innovation & Precision Dentistry (CIPD), which is part of Penn Dental Medicine [4]. Their findings were published in the August issue of the Journal of Dental Research.
The team used a replica tooth as part of the study. A range of bacteria types were added to the tooth – including Streptococcus Gordonii and Fusobacterium Nucleatum – all of which have a damaging impact on teeth [4].
Then, the microrobots were introduced to the tooth. The researchers used a magnetic field to control the microrobots. They worked hard to access the difficult to reach areas of the root canal.
To see the effectiveness levels, the team used a microscope to see the level of bacteria that had been left behind. To their delight, it seemed that the bacteria had been disrupted by the microrobots. Therefore, the microrobots had an excellent effect.
As an added benefit, the team also showed how medication could be transported to certain areas of the tooth, which could lessen pain. Therefore, this would result in less pain both during and after the procedure [4].
Furthermore, the research team were able to track the microrobots in real-time. They did this through using imaging technologies such as an intraoral scanner and computed tomography [4].
Overall, the researchers were able to show that microrobots were capable of being highly effective at clearing out any bacteria that was left following a routine root canal treatment.
What this means
This was a proof-of-concept study. This means that this study was used to show that such an idea could be effective. This type of study is a very early stage in the process of bringing technology to the market. However, it is a positive sign.
This technology has the potential to greatly improve the effectiveness of one of the most common dental procedures. It is capable of making treatment outcomes far better for patients, and result in less of a need for further treatment.
Dr. Michel Koo, Co-Director of the CIPD, spoke about their findings. "This technology offers the potential to advance clinical care on a variety of levels" [5]. Koo talked of how it can be useful for prevention too, saying that "we can not only remove the biofilm, but also retrieve it, enabling us identify what microorganisms caused the infection" [5].
In terms of the safety of the technology, Koo stated that the team demonstrated that "the robots could be controlled by the magnetic field without interruption by the soft and hard tissue surrounding the teeth" [5].
Looking ahead to the future, the team believe that such research can help in a broad range of areas – including across medicine as well as dentistry [5]. This was an exciting study, and shows again the usefulness and versatile nature of microrobots.
Thinking points…
1) Root canal treatments are difficult procedures to go through. Therefore, we should all focus on prevention over treatment. To prevent something like a root canal treatment being needed, it is important to have excellent oral hygiene, as this can help keep your oral health strong. As part of this, you should ensure that you visit a dental clinic at least twice a year for a dental check-up. We recommend booking an appointment now!
2) At certain points in this article, it is mentioned that root canal treatments are not always successful. If you require a root canal treatment, do not let this put you off, as it is crucial that you undergo the treatment, otherwise tooth removal is likely to be required. Here at [clinic name], we take great care with root canal treatments, and use a range of techniques to remove bacteria from the affected tooth. Take a look on our website https://taradaledental.ca for more information!
What we offer at Taradale Dental
Taradale Dental is a Calgary dental clinic that provide its patients with a range of treatment options and advice aimed at improving oral health.
It is crucial to brush your teeth at least twice a day and to floss regularly. Moreover, eating healthily and trying to avoid sugary foods and drink is important.
We advise our patients to attend our Calgary-based dental clinic twice a year for a regular dental check-up. When problems are detected, we have many treatments available. For instance, these include cavity fillings and root canals.
Here at Taradale Dental, we also have some cosmetic treatments available! These include dental implants, tooth whitening and Invisalign™! Many people find that these treatments have a positive impact on their appearance, confidence and self-esteem.
In addition, all of our services at our Calgary dental clinic Taradale Dental are in line with the Alberta Dental Fee Guide.
We would love you to visit our Taradale Dental clinic in Calgary! You can find out more about us by visiting our website https://taradaledental.ca.
References
[1] NHS. (2022). Root canal treatment. Available: https://www.nhs.uk/conditions/root-canal-treatment/. Last accessed: 13th August 2022.
[2] Thyvalikakath, T., LaPradd, M., Siddiqui, Z., Duncan, W. D., Eckert, G., Medam, J. K., Rindal, D. B., Jurkovich, M., & Gilbert, G. H. (2022). Root Canal Treatment Survival Analysis in National Dental PBRN Practices. Journal of Dental Research. DOI: https://doi.org/10.1177/00220345221093936.
[3] Hwang, G., Paula, A. J., Hunter, E. E., Alaa Babeer, Y. L., Karabucak, B., Stebe, K., Kumar, V., Steager, E., & Koo, H. (2019). Catalytic antimicrobial robots for biofilm eradication. Science Robotics. 4 (29). DOI: https://doi.org/10.1126/scirobotics.aaw2388.
[4] Babeer, A., Oh, M. J., Ren, Z., Liu, Y., Marques, F., Poly, A., Karabucak, B., Steager, E., & Koo, H. (2022). Microrobotics for Precision Biofilm Diagnostics and Treatment. Journal of Dental Research. 101 (9): p1009-1014. DOI: https://doi.org/10.1177%2F00220345221087149.
[5] Henderson, E. (2022). Using microrobotic platforms for endodontic therapy and diagnostics. Available: https://www.news-medical.net/news/20220809/Using-microrobotic-platforms-for-endodontic-therapy-and-diagnostics.aspx. Last accessed: 12th August 2022.