Recent research has used human dental stem cells to attempt to continue efforts to find a way to make cavity fillings more natural. The research involved a 3D model, which helped the researchers to try and mimic the original properties of dental stem cells. This research forms another step in what will hopefully be the eventual result of making enamel reproduce, therefore allowing cavity fillings to become more natural.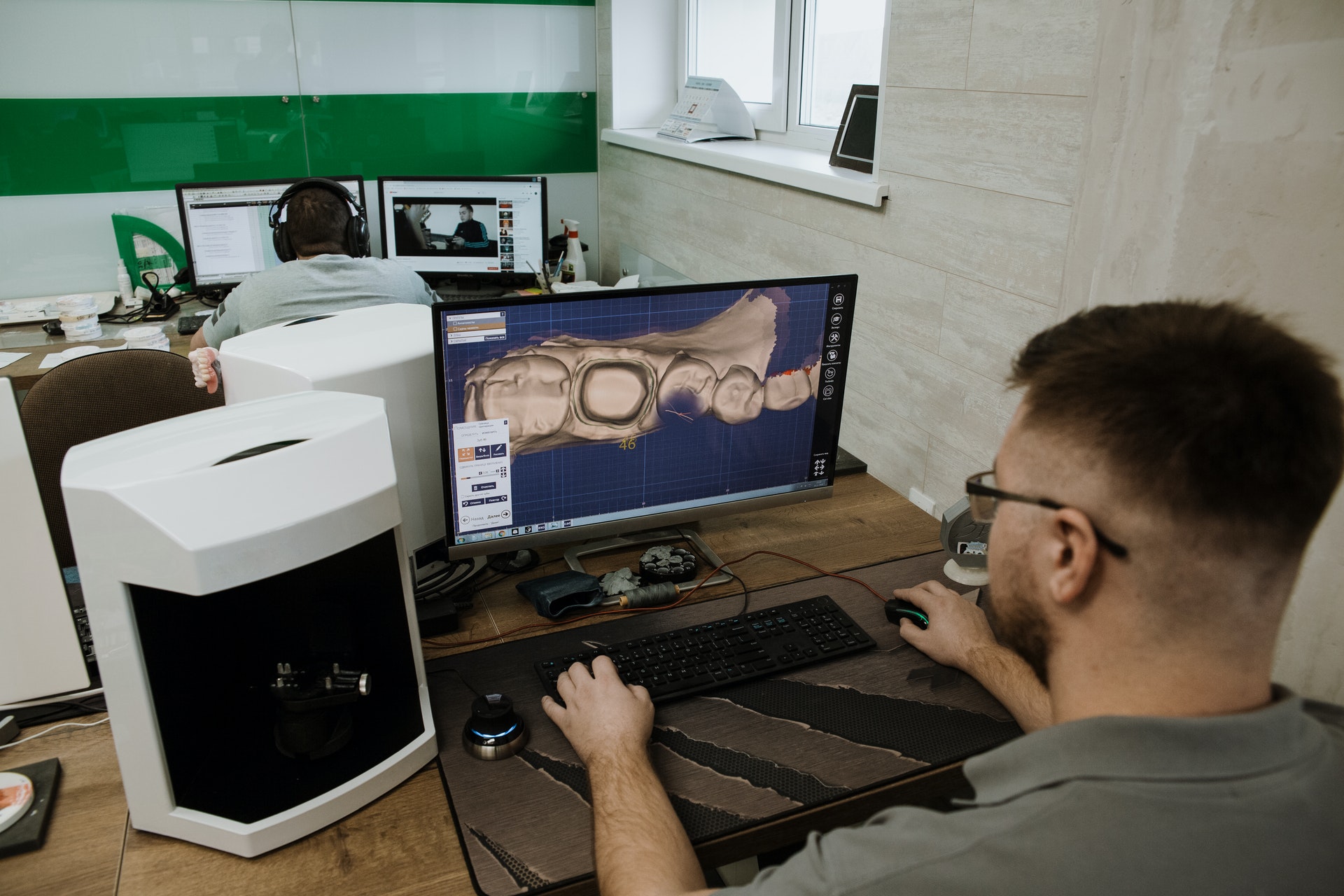 When we have cavities, dentists repair the damage with the help of synthetic white filling materials. They have been designed to look and perform like teeth.
However, there is no natural alternative to this – despite decades of research, nothing quite matches the unique properties of human teeth.
But a new 3D model which uses human dental stem cells could actually be able to change this in the future. New research has looked in to the process of enamel restoration and the use of natural fillings.
Cavities
Cavities are one of the most common dental issues. For example, research shows that in the United States, over 90% of adults have had a cavity [1]. Moreover, approximately 25% of American adults are believed to have an untreated cavity at any one time [1].
Cavities are caused by tooth decay, which in turn is caused by acids and sugars from food and drink. They penetrate the enamel, eventually resulting in a hole that needs to be filled.
Enamel doesn't fix itself, resulting in a dentist needing to fill cavities with synthetic materials. Attempts to recreate enamel and human dental stem cells has been attempted in the past. But the main stumbling block is the fact that human dental cells are very difficult to grow in a lab.
Recently, a team of researchers were able to develop a synthetic enamel with properties similar to natural tooth enamel. However, even after extensive effort, it wasn't as effective as natural enamel [2].
But research will continue, with scientists hopeful that in the future, we will get to the point where it will be possible for enamel to repair itself.
Research
The research was led by researchers at the Katholieke Universiteit Leuven (KU Leuven) in Belgium, Europe. Subsequently, their findings were published in the Cellular and Molecular Life Sciences journal [3].
In the absence of real human dental stem cells, the research team developed a 3D research model with stem cells from the dental follicle – which is a tissue that surrounds human teeth which are yet to erupt [3].
The researchers used this tissue to generate epithelial organoids – a form of human stem cells. These organoids were then exposed to an epidermal growth factor, in an effort to mimic the creation of dental stem cells [3].
The researchers analysed the organoids that had been created, and were able to view the process of something called ameloblast differentiation – which is a process that is involved in enamel formation [3].
They concluded that the cells that had been created were an important part in the overall process of enamel formation [3]. By their own admission, there are still many areas that the researchers couldn't account for, but their findings could be very useful in the future.
What this means
These findings are important for dentistry. If efforts to discover enamel restoration eventually succeed, then dentists would be able to provide biological filling material.
Professor Hugo Vankelecom, who was one of the authors, commented on the findings [4]. He stated that the use of dental stem cells allows the development of "other dental cells with this model, such as ameloblasts that are responsible for enamel formation" [4].
Another author commented that the team's model "managed to turn dental stem cells into ameloblasts that produce enamel components, which can eventually lead to biological enamel. That enamel could be used as a natural filling material to repair dental enamel" [4].
Looking ahead to the future, Professor Vankelecom has plenty of optimism. He hopes that the researchers "combine this model with other types of dental stem cells to develop other tooth structures, and eventually an entire biological tooth" [4].
The authors also suggested that the 3D model could have wider benefits for dentistry [4]. For example, the model could be used in the food industry to see the exact impact certain foods have on dental enamel [4].
This is exciting, and would hopefully give dentists greater insight into which foods have particularly poor effect on enamel. Therefore, they could provide improved and tailored advice to their patients.
Thinking points…
1) We mentioned at the end of the article about how different foods impact enamel in various ways. Have a think about your diet – what impact do you think it has on your teeth? If you have a high-sugar diet, you could try and lower your intake – this would benefit your oral health significantly.
2) This article focuses on cavities. It can be tempting to ignore them, but sadly, they won't get better on their own. Instead, if left untreated, they will worsen, and potentially cause an infection that would require root canal treatment. Therefore, it is important to get timely treatment. We would recommend booking an appointment soon, as your oral health can be examined, with treatment provided if necessary.
3) Continuing on the theme of fillings, white composite fillings have become the industry norm in recent years. But before, amalgam fillings – grey or black in colour – were usually used. If you are concerned about how your fillings affect your appearance, you may be interested in hearing about our cosmetic treatments! If you are interested, we would love you to visit our Calgary dental clinic, where we can discuss your options!
What we offer at Taradale Dental
Taradale Dental is a dental clinic based in Calgary, Alberta, Canada. We offer many services, including regular check-ups, cavity fillings and root canals.
We are also pleased to offer some cosmetic services. Here at our Calgary dental clinic, we offer treatments like tooth whitening, Invisalign™ and dental implants.
It is important for oral problems to be addressed early. Any dental problems will be identified at check-ups. This helps to prevent the problem getting worse. If and when further treatment is needed after a check-up, our patients receive a clear treatment plan that is suited to their needs.
The best way of avoiding extra treatment is to have strong oral hygiene. This includes brushing our teeth at least twice a day, flossing regularly, and getting a dental check-up at least twice a year. Avoiding sugary foods and drink and not smoking also helps.
Our Calgary-based dental clinic Taradale Dental also follows the Alberta Dental Fee Guide. This means our prices are competitive, transparent and affordable.
We would love you to visit us here at Taradale Dental soon! You can see more about us by visiting our website https://taradaledental.ca.
References
[1] Centers for Disease Control and Prevention. (2019). Oral Health Surveillance Report: Trends in Dental Caries and Sealants, Tooth Retention, and Edentulism, United States, 1999–2004 to 2011–2016. Available: https://www.cdc.gov/oralhealth/publications/OHSR-2019-index.html. Last accessed: 30th April 2022.
[2] Zhao, H., Liu, S., Wei, Y., Yue, Y., Gao, M., Yangbei, L., Zeng, X., Deng, X., Kotov, N. A., Guo, L., & Jiang, L. (2022). Multiscale engineered artificial tooth enamel. Science. 375 (6580): p551-556. DOI: https://doi.org/10.1126/science.abj3343.
[3] Hemeryck, L., Hermans, F., Chappell, J., Kobayashi, H., Lambrechts, D., Lambrichts, I., Bronckaers, A., & Vankelecom, H. (2022). Organoids from human tooth showing epithelial stemness phenotype and differentiation potential. Cellular and Molecular Life Sciences. 79 (153). DOI: https://doi.org/10.1007/s00018-022-04183-8.
[4] Katholieke Universiteit Leuven. (2022). Important step toward development of biological dental enamel. Available: https://medicalxpress.com/news/2022-04-important-biological-dental-enamel.html. Last accessed: 30th April 2022.